Horses for sale

All horses are sold with the following disclosure.......
Horses are sold with current coggins & up to date vaccines . Every effort is made to disclose all known information regarding the horses listed here. We will answer any questions to the best of our ability. All information is based on our history and personal experience with each horse. We can in no way predict or guarantee if a certain horse will be a match for any rider or any purpose.Vet checks are welcomed and encouraged. We make no warranties regarding usability, personality, ability, saneness or soundness of any animals listed.

Secret Strategy-SECRETARIAT grandson Sweet 16 yr old AQHA gelding


Rascal was born with us and we raised him until he was 4 yrs old. He was sold to a great family in GA and was extensively trail ridden. When they decided they no longer wanted to have horses they got in touch with us and we got him back. He was leased to a HS girl for a few years until she left for college and now he is just wasting in the pasture. He is too nice to sit around and he really needs a job. He is 16 hands and has been ridden English and Western. He is SUPER quiet but would be best suited for interm rider as he smart and will test you. Looking for his perfect match 2500 nego to GREAT HOME

Sharp Pick 2017 Retired Racehorse Competitor 10 yr old TB gelding


Tall dark and Handsome This 16 hand guy is looking for a new partner. He was a 40K yearling with 121K in earnings A true WARHORSE he raced 71 times and is still going strong. Started on barrels but really loves to just trail ride. He is handy broke and would best suit an intermediate rider as he can be fast. He will ride quiet out alone but in company his competitive edge comes out and he needs to be 1st (its a racehorse thing) He is a lot of fun to ride but sadly I cant ride them all and he gets left behind. He wants a job and his own special person to spoil him and bring him treats. Perfect home is a must All current on shots coggins, dental, chiro, farrier. Asking 3500 will nego to perfect match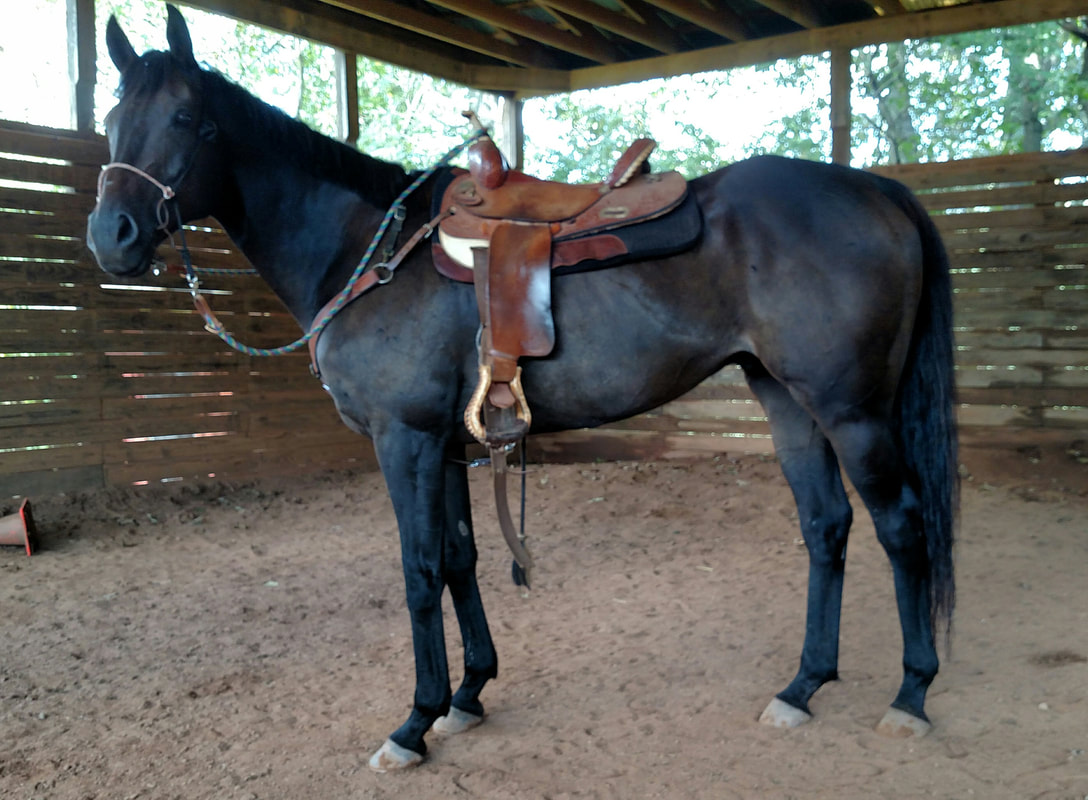 Regal Remda 2016 Retired Racehorse Competitor 8 yr old TB mare

| | |
| --- | --- |
| Remi was gotten off the track in Jan of 2016 to be used in an 100K makeover competition at the Kentucky Horse Park in Lexington KY She competed in Barrels and Trail She was a rock star and competed like she had done it her entire life. She is still green on the barrels and can get hot She has yet to be asked for speed currently just slow loping the pattern. My daughter has ridden her She has been trail ridden and LOVES it. Took her on a 9 mile trail ride thru Latta Plantation Park. A perfect home is all she will leave too She deserves it. I Love her to pieces but need room to continue with my 2018 makeover horse. Asking 3500 but nego to the perfect home | |
SOLD

SOLD
Gypsy- She belongs to one of our clients She is a 5 yr old Grade mare a sweetheart with a bit of a motor so she is not for an inexperienced rider. She is current on all shots and coggins loads great 14.2 has seen barrels and jumps ridden on trails and will cross water needs at least an intermediate rider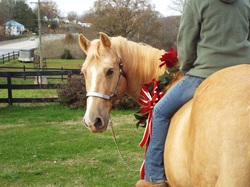 SOLD
Cody- 17 yr old Double registered AQHA /PHBA
Sweeter you will not find He was a pet his whole life before we got him. In order to make a him more likely to find his AWESOME home we started him under saddle. From his 1st ride he was a breeze photo is from ride number 4 riding outside in a halter. He tries to please but would be best suited to a intermediate or above rider only because he doesn't know a lot. If you are just wanting to walk down the trail and follow others I believe he would be fine with any level rider. He is the most laid back guy I have. He is LOW Man in the herd so would not but out with anything dominate or aggressive. An AWESOME home is required.Price will increase with more training.

His pedigree can be seen at http://www.allbreedpedigree.com/dakota+majestic+gold
---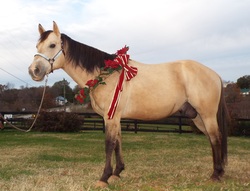 Sold
Dillon 13 yr old Buckskin Gelding
Dillon was a pet until we got him he was also a stallion. He was gelded 11/11/15 but until then he was easy to work with. The old saying says Good Stallions make GREAT geldings so he is going to be awesome. He is build nice with a huge jaw which makes him truly stand out. Ha can be registered with the IBHA/ABHA but unfortunately paperwork was never sent in to AQHA. We have been working him in round pen and He has had several rides but still has a lot to learn so experienced riders only for this guy.


His pedigree can be seen at :http://www.allbreedpedigree.com/dillon20
---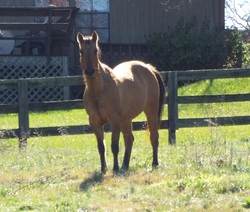 SOLD
Girly 11 yr old Buckskin Mare
Sweet Girl looking for a person to turn her into the horse she can be. Short in size but is bulking up nicely now. She was a pet and has no riding experience. She is not registered but can be ABHA/IBHA registered. She is 14.1 hands and quick and catty. Sadly no AQHA paperwork was ever sent in. Looking for a cheap project here you go she has the bloodlines to be a good one.
Here is her pedigree: http://www.allbreedpedigree.com/snickle2
---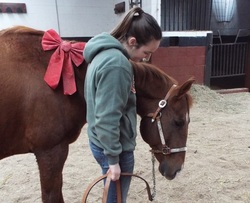 SOLD
Zip 15 yr old Gelding
Zip was a pet and sire of Buckskin mare above. If you are into reining or working cows SNICKELFRITZ CHEX/ Two Eyed Jack blood here He was a stallion when he came and was gelded on 11-11-15. He was always respectful as a stallion and 1st time we saddled him he trotted off like he had done it his whole life. Zip is riding quite now and loves to please if you are looking for a partner he is the one. He is very forward and as he bulks up looks to be a quick one. AQHA paperwork never sent in so selling as grade His pedigree is below.

His pedigree : http://www.allbreedpedigree.com/zip27

---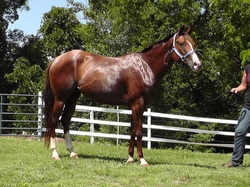 SOLD
Does it Like a Pro AQHA reg Mare Sweet and laid back 15.1 hands 9 yr old She rides quiet and easy and needs a light handed rider She tends to be on the lazy side but can have speed if asked. Has been hauled and is running 4d times without asking for speed. Advanced beginner and up would be best fit for her as she doesn't like a lot of pulling and jerking on her face. She has been ridden bridless. 1st at the gate and will stand all day for brushing and being loved on.
Her pedigree can be seen at:
http://www.allbreedpedigree.com/does+it+like+a+pro
---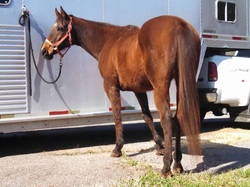 SOLD T-Bow 16 yr old TB He is 16 hands and LOVES to go. Stunning mover would make a great English horse. He has been trail ridden, hauled to shows, has run barrels and poles, He is not for the inexperienced as he can really move. He was raced in his younger years but papers are lost and tattoo is unreadable so he sells are grade. He is a cribber but controlled with strap.

---
SOLD Congratulations Kandi in SC
Money Chaser Sweetest guy you will ever meet would make a good youth horse been their done that would best suit advanced beginner and up. Fun to ride for all. Likes to go. APHA registered 15.1 hands.
His pedigree can be seen at:
http://www.allbreedpedigree.com/money+chaser

---
SOLD-Ole Miss Dixie Congratulations William from NC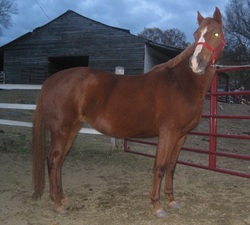 15 yr old AQHA registered mare that has TONS of run but need some work on rate and turn She is a TRUE Diamond in the rough For sale due to owner going to college. She is 14.3 hands needs an experienced rider. She needs a rider that is patient and does not try to over correct her. She can be strong so experienced riders and handlers
ONLY
.
Her pedigree can be seen at:
http://www.allbreedpedigree.com/ole+miss+dixie

---
SOLD-Congratulations Erica from Louisiana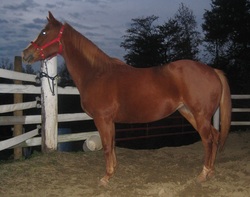 Debbies Secret Alibi
11 yr old AQHA Mare
Broke late in life and ready to move on to a career. Secretariat on her papers. This is a 14.3 hand SWEETHEART. She is a strong horse to ride and would be best suited to an experienced rider. She is loping the barrel pattern now. Has been hauled but owner is a HS senior with a full load of classes so she is sadly for sale She will only go to an AWESOME home. Current on everything. Vet checks welcome at your expense. Price will increase with training and hauling



---
SOLD Good Luck Victoria in Wyoming. I know you will be a GREAT TEAM!!!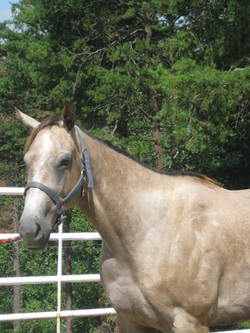 Biduino Chablis
Foaled March 20,2007
AQHA Appendix Registered Mare
BROKE to death and ready to add speed on the barrels currently trotting and loping pattern, started on poles, she is willing to please and wants to be your best friend kind of horse. She is as laid back as they come and will work for all riders. Eligible for the Triple Crown Bonus Money. Dam is ROM on track and money earner. Sire has produced MANY money earners. She will go to a GREAT HOME ONLY as she deserves it. Price will increase with training and hauling.


---
SOLD Good Luck Bill and Alice Hope she is everything you are looking for!!
Lil Bit of Spot APHA Breeding Stock Mare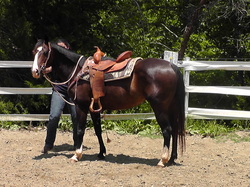 Laid back and ready to ride. She is a super nice mare with a great attitude We purchased her as a weanling with her mom and sold her as a yearling. She was trained by us and has had 1 foal but due to complications I would not bred her again. She is BROKE, BROKE, BROKE When you sit deep she stops no reins needed. She is 14.2 hands. Is current on all shots and looking for a new BEST FRIEND. She goes to a GREAT home ONLY where she will be used and loved.

---