About Us: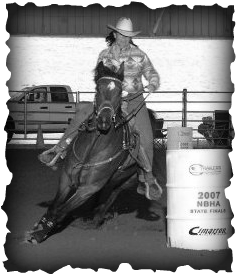 As the result of a harsh trainer and a suggestion of their vet Harris Training Center was born. The Harris' work together as a team to get their results. All basics are started in the round pen. Most horses rode the 1st 45 days in a halter and saddle only. Foundation is made solid before horses are moved to the next level of training. Our main goal is to have a safe, sound and solid horse. A horse with no fear and a desire to be a partner with its rider. A horse that will give you his heart and aim to please.

Sadly a lot of barrel horses are not handled this way. It is a lot easier to use harsh bits , heavy hands and abuse to get results quickly. Unfortunately this is not the answer and usually results in frustrated owners and blown up horses.

The Harris' have been helping people with their horses since 1996. Both grew up around horses.
Debbie Harris got her 1st pony at age 6 and started showing horses at age 10. She purchased her 1st horse at age 14. He was 4 month old AQHA colt which she raised and trained herself .She campaigned up and down the East Coast until she relocated and settled in North Carolina. Kenny Harris was raised with horses. His family trail rode often . It was not until he met and married Debbie did he begin showing horses. They have 3 children all have ridden but only 1 pursues her parents passion.

Debbie Harris is a District Director for the NC National Barrel Horse Association. She was awarded the Trainer of Distinction award from the American Paint Horse Association in 2010. She has won District Championships for multiple years and has also qualified for the NBHA World Championships multiple times. Kenny Harris has also Won District Championships and has Multiple World Qualifications.He received Wranglers All Star award in 2005. Both have earning at all levels of competition from District to State to National Levels.

A few of our stars include My Secret Troubles owned by Lisa Proctor. 2010 NBHA Reserve World Champion sired by the Harris' stallion Regal Secret. Jordy 2007 NC NBHA Youth STATE Champion, Prime Property Multiple National and State money earner. Heza Grand Fol 2010 National money earner, Captain Nero 2010 State money earner. 2012 Secret Lies and Alibis State Money earner. 2013 Youth Open and Senior State Finals money earner Prime Property, 2014 Youth State Money earner Secrets Lies and Alibis with Sarah B. District Champions Hastobee Dandee, Captain Nero, Prime Property.
All training and boarding services are now in the Hickory location. Maiden facility is the sales and breeding operation.

---